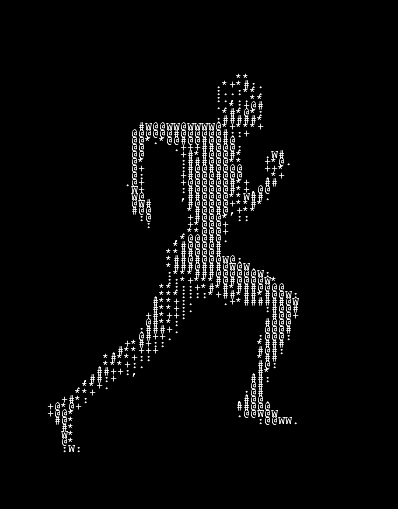 It's hard to believe that in about a month and a half, the year 2009 and the first decade of the New Millennium will be over. The passing decade–and this passing year–have been trying times that have tested many of us in faith and resolve. But for me, at least, it's been an opportunity to get back to basics and be more creative about things.  Instead of eating out as much, I bring my lunch to work. Instead of going to the movies or paying for Netflix, I borrow DVDs from the Library (…and there's the pitch).  In a way, as cheesy as it sounds, the economic downturn has helped me get back in touch with the simpler (and less expensive) pleasures of life.
Among the simpler pleasures I've been rediscovering is my passion for running, something I've enjoyed since I was a high school student. I can't say that I was the speed demon of the team but I truly enjoyed the freedom of being out in the elements, among my fellow teammates and decked in the school colors off to a cross country meet.  Running taught me a great deal about endurance, discipline and was a great way to relieve stress and tension. Unfortunately, running fell by the wayside as I grew older and a bit more preoccupied.
For now, I'm getting back into the sport slowly but surely, as I haven't been a serious runner for some time. Thus far, I walk at least twice a week and have been trying to work the jogging back in. It feels really good to rediscover a long lost love. Here's a couple of books I've been checking out:
Running For Dummies by Florence Griffith-Joyner & John Hanc–My heart leaped when I noticed this book at the Decatur branch.  "Flo-Jo!" I exclaimed…in a whisper (I was still in a library). I'm really liking this book so far because, like all For Dummies books, it's great for the absolute beginner or the lapsed intermediate like myself.  It's a great reminder of the rewards, the challenges and the simple mechanics of running. Plus, it doesn't hurt that this book was co-authored by one of the greatest (and most glamorous) legends of the sport.
Think Fast: Mental Toughness Training for Running by Joe Henderson— There is no doubt that running requires physical strength and endurance but, as my old cross country coach would remind me, running is as much a mental sport as it is a physical sport. This book offers great wisdom for keeping your focus while running and also gives good advice on pushing yourself to "the next level" of more challenging, demanding workouts. While this particular book is geared more toward competitive and seasoned runners, this book can also be quite to the beginner in need of extra motivation.