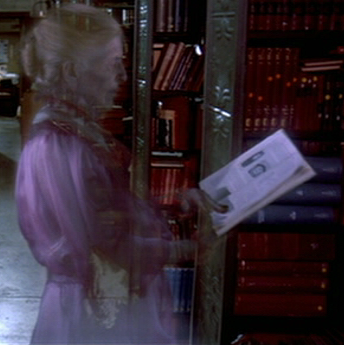 With Halloween right around the corner, I thought it appropriate to share Ellyssa Kroski's excellent write-ups about haunted libraries, both in the United States and around the world. Each list features ten spooky libraries with a brief description of each, as well as a link you can follow to find out more information. Some of the libraries even offer "proof" of their paranormal inhabitants:
The Old Benton Library (formerly the Saline County Library) in Arkansas was investigated by a team of ghost hunters, and you can view their findings, including a video of them purportedly communicating with a ghost using the flashlight method; while the The Willard Library in Indiana allows prospective ghost hunters a chance to hunt for spirits themselves by viewing webcams located in the Children's room, Research room, and Basement Hall.
Want a list of haunted libraries a little closer to home? Check out this page on library ghosts in the Southern US. Astute readers may notice that there aren't any Georgia libraries on the list, however, according to the Shadowlands Haunted Places Index, Chestatee Regional Library in Gainesville has experienced its share of spectral happenings:
After hours the apparition of a young brown haired girl is seen. Books also tumble off the shelves. The library was built on the site of a hotel where a murder may have occurred.
Scary stuff!  Although generally speaking I'm skeptical of reports of paranormal phenomena, this blogger is happy to work in a library that isn't haunted.