Over the weeks and weeks that this blog post idea had been brewing in my head, amazing things have been happening. The city of Atlanta was in the throes of football hysteria as our Falcons were beating themselves a path to the NFC Championship and possibly the Super Bowl. Atlantans were buzzing with excitement, anxiety and expectation for their Falcons. Buses, billboards and houses were festooned with the home team's paraphernalia. I'd even begun engaging folks with the simple "How 'bout them Falcons?" greeting, sometimes opening the door for an avid football fan to hold court about statistics, history and analysis of a sport that is still a bit of a mystery to me.
But I'm finding that not knowing all of the ins-and-outs of football isn't an outright impediment to enjoying a Sunday afternoon in front of the t.v, watching the game. That is especially true if you can catch the game with friends and family who don't mind explaining how it all works—as long as you don't ask too many inane questions or make too many comments about how cute Tony Gonzales is.
Of course, there also are great books in the Library that extol the wonders of
football to the uninitiated, the intimidated or the indifferent-until-the-Falcons-have-a-winning-season type of prospective fan. Football for Dummies by Howie Long and John Czarnecki is an obvious first choice for me—I don't mind admitting to dummyhood. Plus, you can never go wrong with a For Dummies book if you're in need of straight-forward, easily digestible information.
But another excellent book for football novices is the well-written, extremely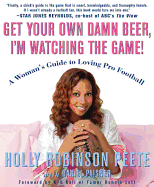 entertaining and lovably titled Get Your Own Damn Beer, I'm Watching The Game: A Woman's Guide To Loving Pro Footballby actress, author and football wife Holly Robinson Peete. I'm thoroughly enjoying this book in which Peete shares anecdotes of her love for football and offers her knowledge and insight into the sport.