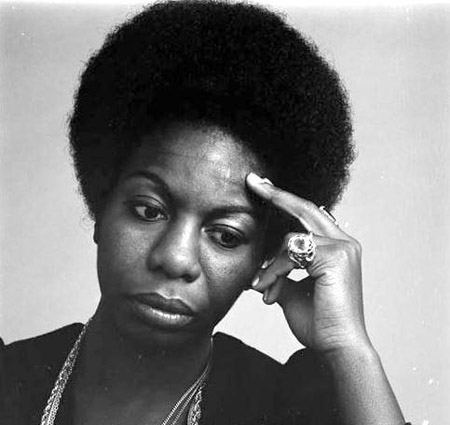 Of late, I've become a bit of an enthusiast for jazz, particularly for jazz vocalists. Not an aficionado yet but someone who appreciates the beauty, the verve and the mastery required of the jazz greats. Lately I've been reading fascinating biographies of some of my favorite performers.
One of these singers is jazz great Nina Simone though, in her autobiography I Put A Spell On You, she denounces the designation of "jazz singer", feeling that such a label didn't fully describe her music. The late Simone, nee Eunice Kathleen Waymon, was possessed of prodigious piano talent from a very young age and classically trained ever after, aspiring to a career as a concert pianist. Not to disparage the genre of jazz, she viewed herself as a classical musician who, if anything else had more in common with the folk and blues musicians coming up alongside her during the 50s and 60s. In listening to her song choices, as diverse as show tunes like "I Loves You Porgy", blues such as "Trouble In Mind" and art songs like "Pirate Jenny", one can see that her repertoire boasts many different musical influences besides jazz.
But still a great case is made for her classification as a jazz musician in the way she describes how she arrived at her distinctive musical style. In I Put A Spell On You she describes the song-craft of her earliest musical performances.
"I knew hundreds of popular songs and dozens of classical pieces, so what I did was combine them: I arrived [at a gig] prepared with classical pieces, hymns and gospel songs and improvised on those, occasionally slipping in a part from a popular tune."
While Nina Simone bristled a bit at being clumped casually by music critics into the same box as other great though quite different performers as Billie Holliday or Sarah Vaughan, there is no doubt in my mind that her musical style was (is) the epitome of incredible jazz.
I Put A Spell On You offers incredible insight into the life and talents of Nina
Simone. Written with Stephen Cleary, Simone describes in plain-spoken detail her advent from concert-hall bound, Julliard-trained prodigy to international music sensation and all the trials and triumphs along the way. I found quite interesting the fact that she fell into pop music stardom almost by accident. She played dive bars and supper clubs by night while teaching piano by day all in an effort to earn money for continued study at Julliard (she even aspired to return to Julliard well into a successful pop career).
She was an incredibly gifted though complex woman, it would seem. Simone was confident in her craft but racked with severe stage fright. She was a woman with a disdain for pop music (and for the pop-listening public at times) but who, through pop music success, found a platform for joining the Civil Rights Movement and addressing social inequality. She loved her family, financially supporting her mother throughout her career, but a devastating falling-out with her beloved father hardened her against visiting him on her death.  Her music was her battle-cry, her comfort and her gift to the world.
{ 1 comment }